Water quality is of critical importance to any residential plumbing system. As a homeowner, you should be able to trust that your piping material isn't contaminating the water flowing through it.
But despite water disinfection, bacteria can still be present in drinking water. Depending on the material, some pipes are more susceptible to bacterial buildup than others.
As a result, multiple international studies, such as the Kiwa Water Assessment, tested the safety of several materials, including green pipe (PPR) and chlorinated polyvinyl chloride (CPVC).
The result?
CPVC is the one of the safest non-metallic materials for your water supply.
CPVC Resists Bacterial Growth
The key to CPVC's resistance to contamination is its very low potential for biofilm formation.
Biofilm forms when biomass such as bacteria, fungi, algae and mold adhere to surfaces in wet environments. Results from the Kiwa water assessment confirms PPR has the greatest potential for biofilm formation, compared to other piping materials, including CPVC.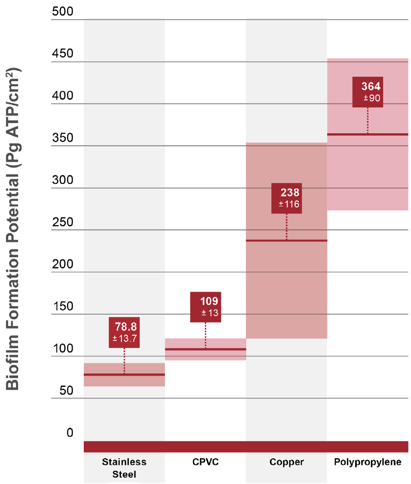 Due to chemical makeup of CPVC and the smoothness of the pipe surface, it's much harder for harmful bacteria to latch on to it. 
In the chart below, findings from Kiwa's Water Assessment showed the number of Legionella bacteria in the water flowing through a CPVC piping system was significantly lower than that of PPR.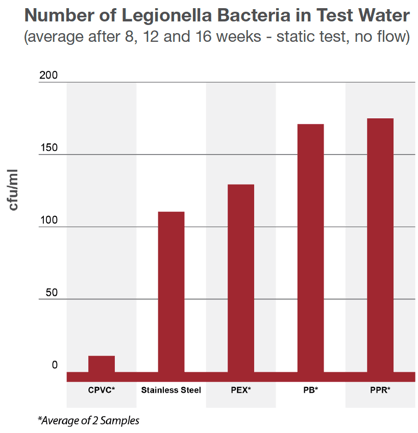 CPVC and Chemical Permeation
Chemical permeation in plumbing systems is when a substance or material comes in contact with the outside of a pipe and transmits contaminants through the pipe wall into your water supply.
But because of the chlorine content, additives and chemical makeup of CPVC, the material is resistant to permeation of many common chemicals that can pollute water.
FlowGuard® CPVC Ensures Water Quality
FlowGuard® CPVC piping has been subjected to testing by international, third-party organizations focused on public health and safety. Based on these tests and our material's approvals, FlowGuard CPVC is the one of the safest piping materials available.
These organizations run piping material through standardized tests and issue certifications and approvals based on the results. FlowGuard CPVC has earned approvals for potable water applications by all major international agencies, including:
More specifically, FlowGuard CPVC is approved for potable water applications and holds an NSF 61 Annex G certification. NSF/ANSI 61 verifies the weighted average lead content within the piping material and that can be extracted out of the material is less than 0.25%.
FlowGuard CPVC Pipe and Fittings
FlowGuard Pipe and Fittings are the most widely used CPVC plumbing systems in the world thanks to the material quality and chlorine, and its biofilm resistant properties.
If you have any questions about FlowGuard CPVC pipe, our team of piping system consultants is ready to talk.
Liên hệ với chúng tôi ngay